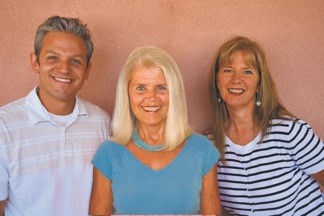 Diane Enright
Associate Broker, Team Leader
Diane moved from Dallas to Taos in 1972. She knows Taos and loves introducing the area to her clients. Diane has been a full time Taos Realtor for over 30 yrs. She knows the ins and outs of Real Estate in Taos and brings her years of experience to every transaction. Award winning service and an impressive resume have established Diane as a known Top Producer both locally and nationally through the Berkshire Hathaway HomeServices Network. Diane credits her team's success to putting client's needs first. Diane knows whether you are a Buyer or Seller, Real Estate is a major investment and often a significant part of one's net worth, retirement, and future. That's why it's important to look for expertise and a solid track record in the Real Estate Broker you choose.
Diane's Recognition / Awards
Berkshire Hathaway HomeServices Legend (Top 2% of brokers worldwide)
Best of Taos Awards 2011-2020
Berkshire Hathaway HomeServices Chairman's Circle 1999-2009 2013-2018
Berkshire Hathaway HomeServices Luxury Collection Specialist
Former President Taos County Association of Realtors
Chairman's Circle Gold Award for 2017 – Team
Chairman's Circle Platinum Award for 2015, '18 '19, '20 – Team
Brandon Rose
Associate Broker
Brandon was born and raised in St. Louis, Missouri. He attended Hanover College in Southern Indiana where he received a Bachelor's of Arts degree in Cultural Anthropology and Sociology. Brandon has worked in Real Estate since arriving in Taos in 2005. Brandon specializes as a Buyer's Broker because he is very attentive and approachable. He spends his free time with his two children and enjoys outdoor recreation. He is involved in coaching youth soccer and serves on the Taos Youth Soccer League Board.
Luisa Guercini
Associate Broker
Originally from Dallas, Texas, Luisa is a transplant to Taos and excited to be working with Diane Enright as part of her team. Buying or selling a home can seem like a daunting task. She would love to guide you through the process to help make your life easier! You will reap the benefits of her work ethic and dedication in assisting you to find the perfect home for you or in listing your home on the market. In today's busy Real Estate market, you need a good negotiator on your side to come out on top. Let's work together to tailor your specific Real Estate needs.
Berkshire Hathaway HomeServices Honors Society Award 2020
Janet Dearing
Office Manager
Janet has been an important asset to the team's success since 2005. Besides bringing experience in administration and accounting, Janet brings a ray of sunshine to our office and to our clients. She is upbeat, helpful, and efficient. In fact, she was voted Most Helpful and Cheerful Real Estate Office Employee by the Taos County Association of Realtors in 2014. Having moved to Taos from San Diego, she found that Taos has a lot to offer – especially for a small town, and that the people here are welcoming and friendly. Janet feels that whether you like the great outdoors or just great food, music, or art there's always something fun going on. Life is good!
MISSION STATEMENT
To provide professional assistance to our customers in the purchase and sale of Real Estate while growing our business through referrals and repeat customers because of consistent quality service, our integrity, and a sincere caring and respect for Buyers and Sellers.
Why BERKSHIRE HATHAWAY HOME SERVICES TAOS REAL ESTATE?
HIGH STANDARDS
NETWORK STRENGTH
REPUTATION

ADVANCED TECHNOLOGY
COMMITMENT TO CUSTOMER SERVICE
STRENGTH OF THE BRAND