Taos Homes Real Estate
IN OUR OFFICE OUR CLIENTS ARE # 1 !
Welcome to TaosHomes.com
A comprehensive site to search Taos Real Estate listings, covering the Town of Taos as well as Taos Ski Valley, Arroyo Seco, Ranchos de Taos, El Salto, El Prado, Arroyo Hondo and all of Taos County.
Diane Enright and Brandon Rose, Real Estate Brokers
We are dedicated, full time Realtors here to help you buy or sell the perfect property in Northern New Mexico. We specialize in residential listings in the Taos area.
Diane and Brandon are Taos Real Estate brokers with a combined 38 years of experience in the Taos market and will be sensitive to your needs, find the right property for you, and then will negotiate the best price and terms, work with other agents, lenders, title companies, inspectors, surveyors, and appraisers to make sure you get what you want.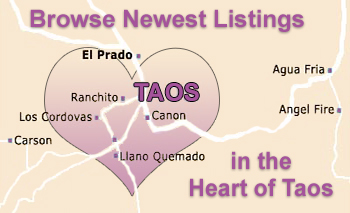 From our website
You can search the entire Taos Multiple Listing Service (MLS) system or search our featured properties for sale. Visit our interactive local Taos MLS map to familiarize you with the search areas in Taos. Our website constantly updates with new inventory, virtual tours, and local information. We encourage you to check back frequently for our up-to-date blog postings and Taos real estate market statistical updates and sales data. Let us be your connection to Taos and Taos Real Estate.
For Sellers
With years of experience in successfully selling real estate in Taos, we know the importance of pricing your property to sell and creating marketing and advertising materials that will attract qualified/motivated buyers. Our job is to protect your equity and negotiate the best price and terms possible. From listing to close we're here to make the selling process as smooth and stress free as possible.
For Buyers
By listening carefully to what you say, Diane and Brandon will do their very best to find the most suitable properties, negotiate the best price, and then work with inspectors, lenders, surveyors, appraisers, title companies, etc. to make sure you get the property you want. Finding and buying the right property in Northern New Mexico is a highly personalized process, and it all begins by identifying your needs. Diane and Brandon look forward to the opportunity to work with you and becoming your connection to Taos.
Mobile App
We are pleased to offer our cutting edge, Berkshire Hathaway Home Services Taos MLS property search Mobile App. The mobile app includes an innovative property search capability using your GPS location, and allows you to search the Taos Real Estate listings for nearby homes. It updates daily with new listings and price reductions.
Why BERKSHIRE HATHAWAY HOME SERVICES TAOS REAL ESTATE?
HIGH STANDARDS
NETWORK STRENGTH
REPUTATION
ADVANCED TECHNOLOGY
COMMITMENT TO CUSTOMER SERICE
STRENGTH OF THE BRAND
Our Team's Mission Statement: To provide professional assistance to our customers in the purchase and sale of Taos real estate, while growing our business through referrals and repeat customers because of consistent quality service, our integrity, and sincere caring and respect for Buyers and Sellers.