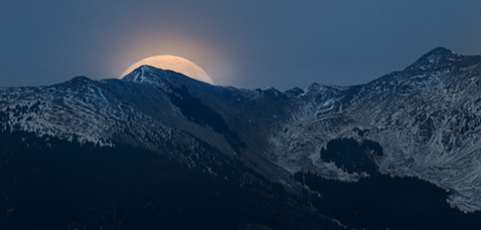 Welcome to Winter 2018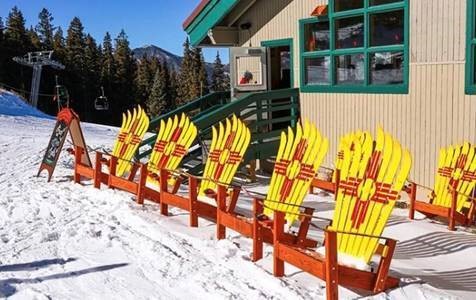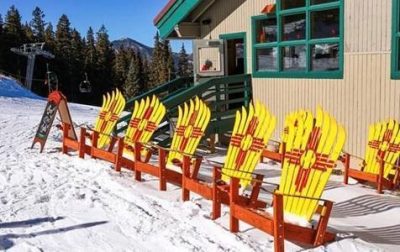 First, we would like to say kudos and thanks to Geraint Smith for his luscious photos that so often make our day. It is the rising moon on the left (Other is cool too and is from TSV) If you haven't checked out Geraint's website, please do. His photos of the day are priceless as well as his prints and book.    www.geraintsmith.com

We hope we have weathered the real estate roller coaster in Taos and that we can adjust to a new normal. If 2017 is an indicator, we should be able to do just that.  2017 was a good, solid year for both volume and # of units sold.  Taos is usually a little behind the nation, so we didn't start taking a serious dive until 2009 instead of the 2008 nationally. From our highs, the average sales price for single family homes dropped approx. 35% and for land almost 75%  to hit the lows of 2009-12. Yikes.
We had a little bumps in 2013 and 2015 which were encouraging, but 2014 and 2016 were rather flat.
Here's the good news in 2017:


Berkshire Hathaway HomeServices Taos Real Estate stood out from the other 42 companies in the Taos MLS.  We were tops in volume at $52,573,558 in sales with Coldwell Banker Lota Realty with $34,713,400.
We were also tops in the number of units sold by 27%.  Brandon and I were fortunate to be able to add 48 of those transactions last year.   2018 seems to be off to a good start.  Buyer demographics are expanding as we are seeing more varied age groups buying as well as buyers from different areas.  Taos has always attracted buyers from all over but we're seeing more from the NW and CA again.  Always a good market for us, CO seems to be drifting down here and we're still seeing a good number from Texas.   According to Business Insider, the 10 Hottest Housing Markets to watch in 2018 included 6 out of 10 cities which have become feeder markets for us.  They include Denver, Seattle, Portland, Ore., Dallas, Austin,  and San Francisco.  Interest rates have risen a bit and many economists predict another 2 to 3 rate hikes in 2018.  Even at that, interest rates are low and lenders seem to be loosing up again so now is still a good time to buy .   With sales prices finally going up, it's also a good time to sell.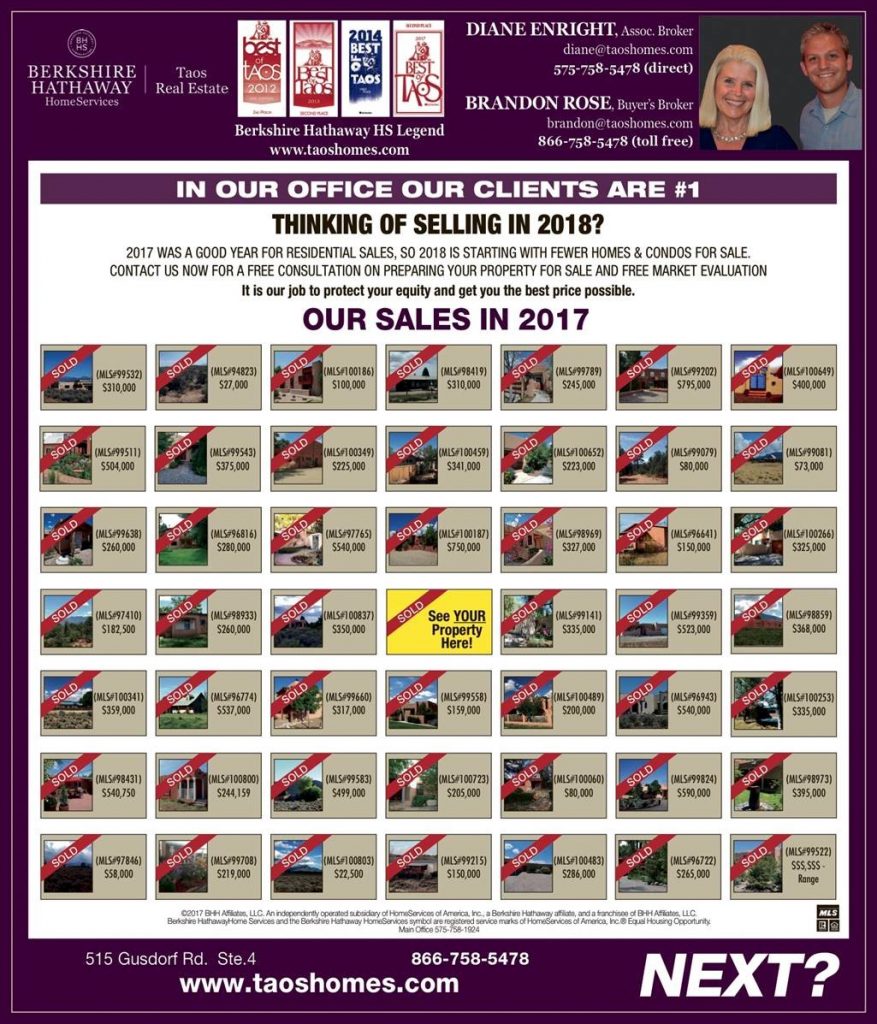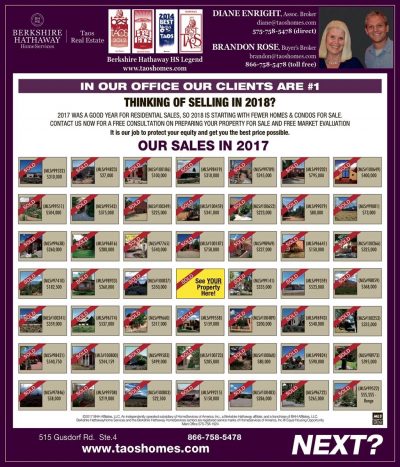 FOR BUYERS  –  If you find the right property, now's not the time to be indecisive.  If it's a nice property and priced properly we're likely to have multiple offers. We've had several properties this past year that had been on the market for over a year and then we've had 3 offers.   With inventory lower, we have more people waiting for new listings.
FOR SELLERS – What's selling?  Properties than show well, are well maintained,  priced competitively, and easy to show. Contact us now.   We can provide a free Comparative Market Analysis plus a consultation on preparing your property for sale.   See chart attached for Single Family Homes sold in 2017.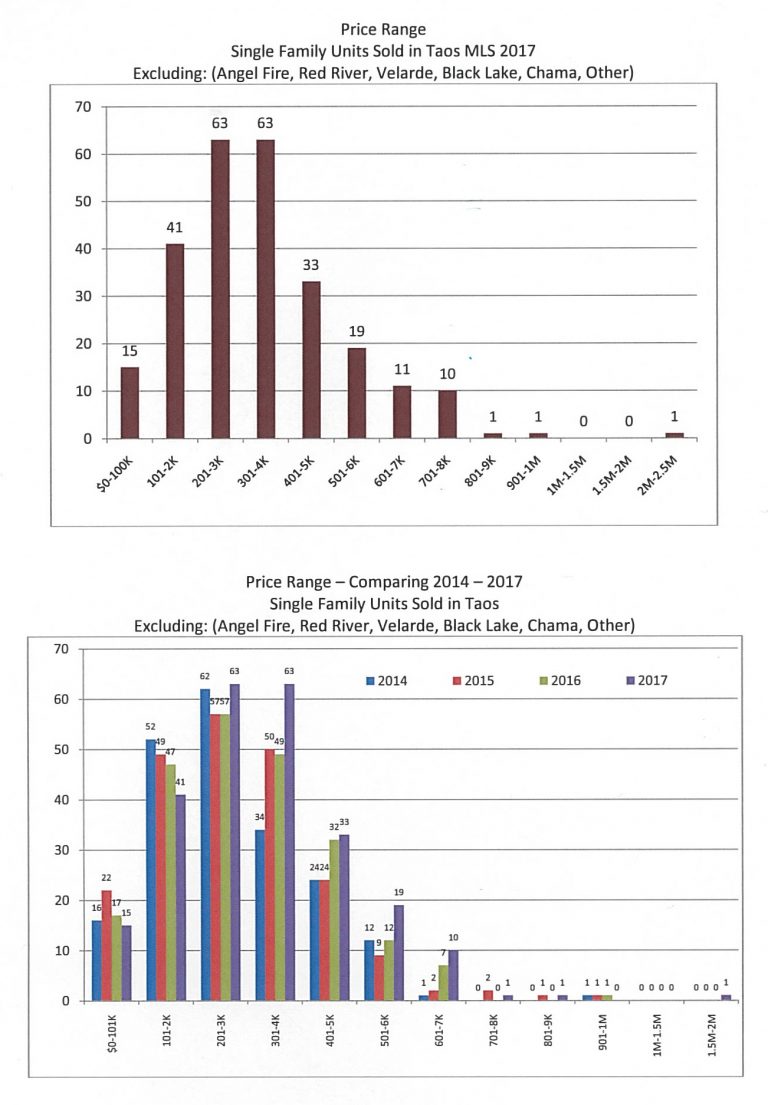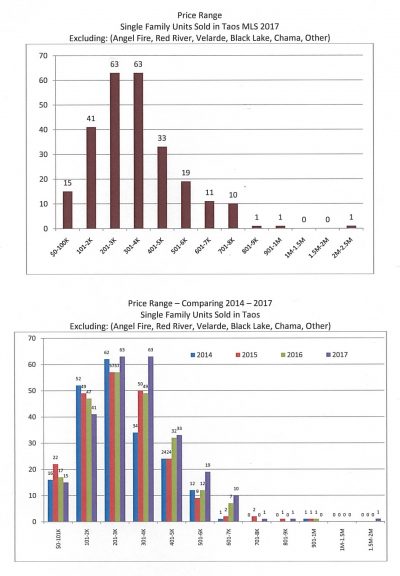 With 40+ years of combined experience,  we know the market and the ins and outs of Taos Real Estate.
We hope to see you in 2018!!
Warm regards,
Diane and Brandon