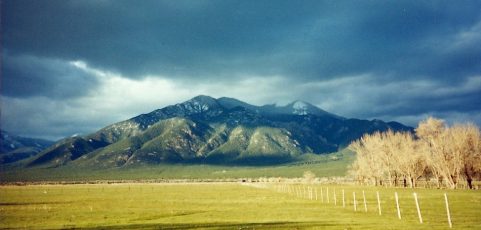 Ah, Spring in Taos….   The Taos Real Estate Market has proven to be just as varied as our Spring weather.  Fortunately, single family home sales have gained a bit of ground and sales are up 14% though the average price is down 2% for the same time last year.    The average price for condos has gone up a bit too but the number of sales are down.  Part of that may be due to lack of inventory.  The number of land sales are up but the average price is down and commercial sales are pretty flat.   The table below shows the comparison between Jan.01, '16 – Mar. 30, '16 and Jan.01, '17 – Mar. 30, '17.


Taos living is great year-round and Spring in Taos can be beautiful – or not – but we've got some new things in Taos to look forward to.   Have you noticed the big building behind Cids?   THE CELLAR, a wine and small batch spirits emporium is the new venture of the Backer family, owner of Cids.  Look for it to open mid-May or early June.  Also in June, you'll be able enjoy the yummy MONDO ITALIANO food in their new, expansive building just south of their current location.  Roof top dining anyone?   As our weather warms up, we're happy to hear that ZIGGY'S FROZEN YOGURT is opening next to Taos Java.  This cool space is designed to delight one and all and should open late May.
Speaking of businesses.  We have one.  We sell real estate.  We would love to have your vote in THE BEST OF TAOS voting in the Taos News for best Real Estate Agent and best Administrative Assistant.  As there is no category for "teams" we would appreciate your vote for Diane Enright as best Realtor and Janet Dearing as best Administrative Assistant.
So what about Real Estate in Taos in 2017?   We feel that 2017 should be the year we see our market improve.  Two of our biggest buyer markets, Colorado and Texas, have had growth spurts and we expect to see more retirees and second home buyers looking at Taos.  It's likely that we may see more people from both coasts entering our market and our prices, compared to those, should be attractive.  Although interest rates are still low they are going up so we may see more fence sitters make a move.  And then there's the ski valley and the airport expansion.   Yes, 2017 might be THE ONE.
If you have real estate questions or want to discuss the market, call us at 575-758-5478,  email us at diane@taoshomes.com or brandon@taoshomes.com,  connect to the Taos MLS at www.taoshomes.com or  follow us on Facebook at taoshomes.com.
We would love to be your connection to all things real estate in Taos.
Warm regards,
Diane and Brandon