February 27, 2013

TAOS REAL ESTATE.  In answer to your question "How's the real...

WINTER IN TAOS – February 2013

Welcome to a Winter Wonderland!  Yep, 28 inches in the last 5 days in Taos Ski...

FALL IN TAOS – October 2012

...
About Us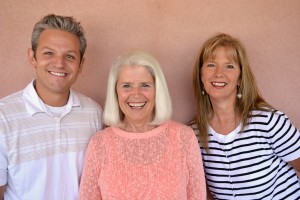 Diane Enright
Diane has been a Taoseña for 35 years and a Realtor for the past 22 years.  She knows Taos like the back of her hand and knows the ins and outs of Taos Real Estate.  She enjoys introducing newcomers to what Taos has to offer.
Prudential Legend (Top 1% of Prudential Agents worldwide
2010 Prudential President's Circle
2009 Top Producer—Taos County Association of Realtors
1999-2009 Prudential Chairman's Circle
Past President – Taos County Association of Realtors
Past President – Holy Cross Hospital Foundation
Board Member – Taos Land Trust
Trustee – El Pueblito United Methodist Church
Fine Home Specialist
Voted "Best Real Estate Agent" in the Taos News' "Best of Taos 2014″
Janet Dearing
Janet is Diane's office manager. Janet and Diane have worked together since December of 2005. Janet moved here from San Diego where she lived for approx. 20 years and has experience in administration and also accounting. She believes that Taos has a lot to offer just about everyone.  Considering the size of Taos, there's always something fun going on and the people  are so friendly and genuine. Life is good!
Brandon Rose
Born and raised in St. Louis, Missouri, Brandon attended Hanover College in Southern Indiana where he received a Bachelor's of Arts degree in Cultural Anthropology and Sociology. Focused on communication and helping others by listening and observation, Brandon's detail-oriented care aids clients in finding and connecting with that special property. Brandon has worked in real estate sales since arriving in Taos in 2005. Often specializing as a buyer's broker Brandon is very attentive, approachable, and receives a great sense of fulfillment in helping others actualize their own goals. When not assisting clients, Brandon spends time with his two children, enjoys outdoor recreation, is involved in coaching youth soccer, and serves on the Taos Youth Soccer League Board.
Testimonials
In our deal, Diane was both the listing agent and our agent (the buyers)…often a tightrope to walk.  Diane managed the challenge beautifully with the utmost respect and professionalism from initial offer through closing.  Diane and her invaluable assistant, Janet, accommodated every one of our many detailed requests in a timely manner.  Their smart use of technology/internet made for unhampered communications even though our primary residence was two time zones away.  We would highly recommend Diane to anyone that is looking for a realtor with great experience, an easy manner, and a sincere commitment to your satisfaction.
Georgia and Jules Epstein – Boxford, Massachusetts
---
We so appreciate the professionalism and efficiency that Diane brings to the purchase of a new home in Taos.  She is a good listener, understood our needs and was able to translate that into showing us homes that helped us make a decision.  Her knowledge of the Taos real estate market allowed us to negotiate the purchase price and terms for our new Taos home that gave us great value while being fair to the sellers.  Buying a house can be stressful and Diane was able to bring some fun and laughter to the process.  We would highly recommend Diane for anyone considering the purchase or sale of a home in Taos.
Rich & Carol Rinehart – Taos, NM
---
If you are looking for a realtor in Taos, look no further than Diane Enright.  We worked with Diane as a buyer's agent and she was just outstanding.  Diane knows the market in Taos and who the "go to people" are for everything.  She showed us properties in our stated price range and never tried to up-sell us.  Best of all, she provided very forthright and candid opinions/insights on any property that she showed us.  Diane and her support team are very knowledgeable, they are very available and easy to work with.  Our experience with Diane and her team was very positive and frankly, could not have been better.  We highly recommend Diane without reservation.
Gene Imbro & Susan Huddy, WashingtonD.C.
---
Diane Enright handled the sale of our Taos Bed & Breakfast inn in a very professional manner.  Her attention to details, advertising decisions and targeted marketing resulted in many well qualified prospects coming to Taos to tour our property, which led to us being able to sell our business in an extremely depressed real estate market.  Diane helped negotiate a good price for us and she and her great staff handled all aspects of the closing.  We would highly recommend using Prudential and Diane Enright if you want the best representing your real estate interests.
Bob and Jill Purtee – Surprise, Arizona
---
Diane was my advocate every step of the way in the whole process of buying my home here in Taos. As a first-time home buyer, I had little knowledge of contract language, loan acquisition, and property appraisal.

Not only did Diane work tirelessly on my behalf, but she matched me with a home that is simply perfect. I appreciate her decades of experience in Taos real estate and the way she patiently explains the ins and outs of buying a home to a first-time home buyer.  I highly recommend Diane, and when it comes time to buy my next home, she will be the first person I will call.
Katrina L., Taos, New Mexico
---
We have worked with Diane for many years in multiple real estate situations.  She is passionate, knowledgable and one of the best realtors we have ever known. She works with and for you in a very personable and professional fashion.  Simply said…the Best!
Carmi Plaut – Taos, New Mexico
---
Dear Diane,

To the geniuses of Taos Real Estate, thank you!  I can't imagine anyone else could have sold Dan's condo in this market!  All of the marketing & customer service was fabulous.  And of course, that is why I chose you.  You went out of your way to make it convenient for showings and making it no hassle for me.  Not only did you do a fantastic job getting the condo sold, but then you are generous enough to share w/ the Taos Land Trust!  Wow!  I really do appreciate you.
Mary Lane Leslie – Taos, New Mexico
---
We found our total home buying experience with Diane a true delight.  After a 24 yr history of looking for properties with Diane, we feel she is outstanding when it comes to working with our crazy schedules and has always been available for showing us properties, answering questions and troubleshooting.  We have highly recommended Diane to our friends looking to buy in the Taos area and will continue to do so because of her kindness, sincerity and professionalism.
Paula and Steve Fasken – Santa Fe, NM
---
We could not have been more pleased with Diane when searching for a home in Taos this past Fall.  She listened carefully to what we were looking for and then showed us homes that met our qualifications.  Diane really knew the Taos area, knew resale values in the area and knew what seller/buyers are searching for when viewing and purchasing properties.  We live in Lubbock, Texas and Diane and her staff made the home purchase as "pain-free" as possible.  We would highly recommend Diane to anyone searching for a property in Taos.
Jim and Ann Hund
I recently completed the sale of a condo in Taos which Brandon handled superbly. He was highly efficient with great attention to detail. I've bought and sold numerous properties in several states and would rate Brandon as one of the top realtors I've ever worked with. I would highly recommend him to others.
Jerry Ratledge – Florida
---
House hunting long distance is a challenge! We had decided to buy a house in Taos and made many trips from our home in Vermont to look at properties. Brandon had incredible patience with us as we looked at several homes. When we finally found a home that was right for us, he walked us through each step of the process. His advice was invaluable. He provided us with contacts and resources and helped expedite all the various tasks that go along with buying a home. We would happily recommend Brandon to anyone looking for property in Taos.
Doug and Cindy McIntosh – Vermont
---
Brandon has all of the qualities you could want in a real-estate professional: knowledge of the area, willingness to put in the time and effort needed, and most important to us, great attention to detail. Buying and selling real estate can be complicated and frustrating at times, but Brandon kept us from becoming overwhelmed by staying ahead of all the requirements and deadlines. His knowledge of local issues, such as water rights, was invaluable in helping us through the buying process, and he remained available and helpful even after the transactions were completed. I can't overstate how important these qualities have been to us in the two home purchases he has guided us through. We have recommended him to a close friend, who also completed a successful transaction. I highly recommend Brandon with no reservations at all.
Edward and Jeanette Bird – Texas
---
We've been looking at property in southern Colorado recently and I have to say that I sure wish you were in that area! We've dealt with many realtors since working with you and have found that you are far above and beyond any others that we've come across! If we could award BEST REALTOR nationwide to someone, it would be YOU!
Lynda and Enzo – Colorado
Contact Us
Phone Numbers
Office Location
515 Gusdorf Rd Suite #4
Taos, NM 87571
E-mail
diane@taoshomes.com
Contact Form
Fill out this simple form to send us a quick e-mail.
Diane Enright was voted #1 Best Real Estate Agent in the Taos News' Best of Taos 2014
From The Blog
TAOS REAL ESTATE.  In answer to your question...
Read More