TAOS REAL ESTATE.  In answer to your question "How's the real estate market doin? "  It's finally doin'.  2013 is off to a promising start.  2008 – 2010 was bad.  2011 was miserable.   The number of sales was up considerably in 2012 as was the overall volume.  The avg. sales price for a single family home in 2013 year to date is hovering around $340,000 up from $200,000 last year at this time.  (Be cautious though, 2 mos. does not a good sample make but it is terrific to see the uptick).  And interest rates are still sooooo low. 
Today's Tip for Buyers:  Get prequalified with lender or line up alternative financing (refinance another property for cash out, do 1031 exchange, get equity loan on another property).  Lenders are asking for everything but a DNA sample, so be patient.  Loans are getting done.  Cash buyer?  Good!
Today's Tip for Sellers:    Do all the repairs you don't want to do.  Buyers will not want t odo them either and you'll probably end up doing them anyway.  If you don't , they will come up in the inspection at which time you will do them, your buyer will want a jillion dollars off the price, or your buyer will take a hike.  The alternatives are never pretty.
For more info. on the market, check out www.taoshomes.com or email me at diane@taoshomes.com w/ specific questions.
THE GREAT OUTDOORS.    Taos Ski Valley Feb . 28 – Mar. 02.  Solomon Extreme Freeride Championship.  New Mexico's largest & most prestigious snowboarding competition.  Athletes from around the globe compete on the steeps for $15,000 purse.  www.skitaos.org  For a real adventure – there's ice climbing.  this photo was taken above Taos Ski Valley.  Not for you?  How about the expanded area on Stawberry Hill for tubing at TSV open from 2-6 daily.    There is something for everyone.  
RESTAURANT SCENE.  The Gorge Bar & Grill.  Whether it's the shrinking economy or an expanding waistline, sharing is "in".  Feel comfortable to ask to split & share any dish here.  (Burger – pictured here – yep, that's 1/2)  Salads big too.  Green goddess dressing is house made & good.  Friendly, casual, & good value.  Handy Taos Plaza location.   http://thegorgebarandgrill.com
 HOT BUSINESS:  Kudos to Mary Domito, aka "Mattress Mary", for extraordinary branding.  She's turned an almost risque moniker into a classy identity as the owner of the successful Taos Life Styles.   Namebrand mattresses (of course), plus upscale furnishings.  They deliver.  http://taoslifestyle.com
HOT TOPIC.  Airport Expansion.  Discussed now for 30 or 40 years.  Feb. 21 Taos News reports:  "A recent study shows modest economic benefit."  Who did the study?  Nick Jaramillo & Andrew Chavez? 
WHAT'S HAPPENING.  MARCH 7 – 10.  Annual Taos Shortz Film Festival.  This year's line up brings 88 short films from 17 countries to our little town and will showcase some of the best New Mexican and native American filmmakers.   This is a fun & energizing event.  Short films allow no time for snoozing.  It's hard to be bored in 8 minutes.  GO!  http://taosshortz.com
Welcome to a Winter Wonderland!  Yep, 28 inches in the last 5 days in Taos Ski Valley.  It's been cold but the powder is great and temperatures are already rising.  The local real estate market is heating up too.  The number of sales of single family homes was up 25% in 2012 and volume ($$) up 35%.  Prices are leveling off.  I feel the "bottom" is here or near.  With interest rates still historically low it could be THE time to buy.  There are several economic indicators that should cause us to have a positive outlook.  Check out the observations of economist Dr. Elliot Eisenberg at the end of the newsletter.  Meanwhile, if you're looking at real estate, check out a couple of my cool listings.  See attached or go to www.taoshomes.com.
     Other GOOD NEWS.  Warren Buffet is betting on residential real estate.  Buffet's Berkshire Hathaway purchased 51% of Prudential Real Estate in October which will join Real Living in becoming Home Services of America, a Berkshire Hathaway Affiliate.  This is seen as an opportunity for our clients and sales associates that is second to none with a national & international reach that will be unparalleled.  Expect major announcements later this year as to how this change will be implemented and branded.  (Personally, I'm loving it!)
FUN FESTIVITIES THIS WEEK:  Winter Wine Festival at Taos Ski Valley. 
The Grand Tasting is Sat. Feb. 02 from 4:00 – 6:30 in Taos Ski Valley. 
The Reserve Tasting is tonight from 5:00 – 7:30 at El Monte Segrado in town. 
There are lots of seminars and several wine dinners.  Click here to check out the entire schedule.
In town on Friday?  Check out this cool event:  THE ART OF WINE – HARWOOD MUSEUM OF ART.
Friday, Feb. 01 from 3:30 – 6:00.  Not only can you enjoy good wine and artful horsd'oeuvres, you get exclusive access to exhibitions, old and new, plus a private, behind the scenes tour of the Museum's state-of-the-art collection storage area.  Love Art?  Bid on treasures by renowned Taos artists.  (Sponsored by Great Chef's of Taos which benefits the award winning Taos High culinary Arts Program.)  Click here to check out the Harwood's schedule of events.  For more upcoming events go to www.taosorg.com or www.taosskivalley.com.
      Of course there are lots of things to occupy your time outdoors, but don't forget the myriad of things that can be done indoors.  Museum or gallery hop, then lunch at Graham's or Martina's.  Hit At Home in Taosor Taos Country Furnishings for gifts for you or friends & family.  Substance has style & Red Cat Melissiano's has a bit of everything.  Walk to the Taos Inn, have a margarita, people watch and see why it's called the Living Room of Taos.  At day's end, relax and fine dine in a friendly atmosphere at Lamberts or El Meze', or at so many more good restaurants.  Yummy!
 And as I mentioned, there's more GOOD NEWS.  According to economist Dr. Elliot Eisenberg, a presentor at the Real Estate Association of N.M. last week, there are 10 indicators that the economy is improving.  Here's his list I interpreted from my notes:
No more countries going into recession at this time.
Household formations are up.
China's having a soft landing.
Both single family & multi-family sales are up.  (Real estate looking up in general)
Rich are still doing well.
Europe's OK.
Consumer confidence is growing.
Corporate Sector profits are up.
Interest rates low – no inflation.
Energy & commodities, prices falling.
      Yes, it looks like 2013 is off to a good start!
Cheers!
Diane
                                                                                                                        October 4, 2012
FALL IN TAOS
     Life was just a bowl of cherries and apricots, plums, apples, pears, and even peaches this year in Taos.  Summer was stunning, the crops abundant, the Farmer's Market bustling, and even Taos real estate saw some of the abundance.  The number of sales for the 3rd Quarter and year to date in the Taos MLS are up almost 30% and the average sales price for a single family home seems to be holding it's own.  The average sales price year to date for single family homes is $252,005 compared to $253,125 last year so I'm cautiously optimistic that there is light at the end of the tunnel.  Prices on many properties have rolled back to mimic those of 2003 – 2004 but because of the historically low interest rates, payments are much lower today for the same property.  Payments on a $200,000 mortgage in 2003 @ 6.25% would be $1,231.  Today @ 3.5% it would be $898.
     Nationwide, we're seeing more sales yet there are still challenges in getting loans closed because of the amount of paperwork/documentation involved.  The number of loans – especially for re-fi's – in lender's pipelines slow the process, BUT, it's worth it to get an interest rate at 4% or lower, isn't it?  The combination of low prices and low, low interest rates make it the perfect time to buy.  We're even seeing multiple offers again.  Sometimes he who snoozes loses.
NEWS:  OLD MARTINA'S HALL is OPEN. 
After fighting City Hall (County actually) Martina has opened her beautifully restored/remodeled
landmark "cantina" maintaining the classic pueblo exterior and creating stunning interiors.   
Now open for breakfast & lunch.  Reasonably priced.  Check it out!
CONGRATS MARTINA!
      Taosis absolutely beautiful this time of year.  Fall is in the air, so days are sunny, nights are crisp, and the colors awe inspiring.  The
Fall Arts Festival is in full swing.  The Wool Festival is this week-end, and the Taos Mountain Balloon Rally is right around the corner.  Enjoy SOMOS Storytelling Festival Oct. 19 – 20 or for a delightful night out go see a beautiful flamenco show at TaDa Dance Academy Oct. 11.  There are ongoing programs and shows at the Millicent Rogers Museum and The Harwood.  There's always lots to do inTaos.
     For more information on ongoing or special events in Taos, click here: Taos.
     If you're inTaos, drive theEnchanted Circleand enjoy the colors or just drive up to theSkiValley, enjoy the display & have lunch or cocktails at Tim's Stray Dog.  If you're not inTaosnow, plan a trip soon!
HAPPY FALL!   

WELCOME TO TAOS 2011.
Taos is off to a great start in 2011.  Sunset Magazine named Taos as the 3rd best town in the American West to live and find happiness and the #1 town to own a vacation home over runner ups Laguna Beach, CA, Truckee, CA, and Telluride, CO.  Sunset Magazine reports "Regardless of what brings a person to Taos – arts, snow play, it's ethereal spirit – those who fall for the town tend to fall hard.  It's this enduring appeal coupled with a limited housing supply that make for about as safe a second-home bet as you'll find."   See the article:  Click Here or buy Sunset Magazine at your local newsstand.
Right on the heels of that article, Good Morning America this Sunday had a great feature on Taos in their Weekend Window segment.   To watch:  Click Here
Having lived in Taos for over 35 years, to me Taos still has a small town feel with a big town to do list.  There's always something fun going on.  So far this winter in Taos we've enjoyed lots of sunny days and chilly nights yet despite the mild winter, there's still good skiing at Taos Ski Valley thanks to exceptional terrain management.  The 25th Winter Wine Festival at the Ski Valley and local restaurants was a blast, and there's plenty more exciting happenings throughout the winter.  Local favorites like the Monkey Feeders and Mina Tank (of YouTube/Oprah reknown) heat up the night scene while old favorites like Michael Hearne & South by Southwest, Jimmy Stadler, and Max Gomez continue to crowd please.  Missing the big city?  The Taos Center for the Arts has performances of King Lear from the Nat'l Theater live on Feb. 12TH & 13TH.  For a calendar of upcoming events at the TCA  Click Here.   The SOMOS Winter Writing Series is going on now.  The Harwood Museum unveiled it's Arthur Bell Auditorium in 2010 to rave reviews and just screened "The Flame of Paris" in high definition from the Bolshoi's theatre.   Last week local author John Nichols regaled an audience with talk of his 42 years in Taos and read from his latest novel in progress.   Starting Feb. 3rd the Harwood is co-sponsoring Public Film Lectures & Workshops.  For information contact andreaheckman@earthlink.net.  For a calendar of events for the Harwood:  Click Here.  For more news on other events try www.ktaos.com, www.taosshortz.com,  www.somostaos.net, & www.taosski.org.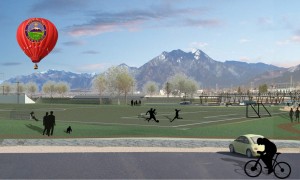 This year will also see the new Taos Eco Park open.  This multi-use sports facility has received a FIFA 2 star rating and because of the altitude is the highest certified training facility in the world for team training.  Besides soccer, it accommodates football, rugby, and lacrosse.   Kudos to the Town of Taos for including sports tourism as part of it's economic plan and to the Taos Municipal Schools for making it part of it's long term planning for Taos youth.
More and more of the rest of the world is discovering Taos and finding out what makes us happy about living here.  Sales of single family homes actually rose in 2010 and sales prices only dropped about 7%.  Smart Money Magazine reports that home sales in popular retirement areas have jumped significantly as the first wave of Baby Boomers hit 65.  Many have bought, or are buying, vacation homes now while prices and interest rates are low to be used for retirement later.  It's a trend that Paul Bishop, the Nat'l Assoc. of Realtors vice president of research, says "will likely continue this year since vacation homes are just the type of residence that many soon to be retirees opt for."  Over 1 in 4 plan to use the property as primary residences in the future.  In Taos, the choice properties – choice location, choice condition, and choice layout – are still commanding very respectable prices, but if you're looking for a deal, those are out there too.  We have 175 residential listings at $250K and under, but as the market picks up, the time frame shortens for getting a steal.  Interest rates are still historically low and housing affordability is at a high not seen since the early 70's.  If you're a Buyer right now, you may have the opportunity of a lifetime.

More good news –  Taos Ski Valley just got another foot of powder last night so skiing is fantastic.
Speaking of news, there were lots of big stories in the Taos News in 2010.   There were protests over the proposed Air Force training flyovers, a federal court case against the Taos School District, Mid-term elections, and the inmate walk out "escape" from the local prison, among others.  What was the most popular web story?  #1.  'Man slugs black bear, rescues goat.'  That's Taos Folks!
Warmest regards and best wishes for a happy 2011.